It's time to redesign the kitchen in your Marvin Creek home, and starting feels quite intimidating. A renovation project like this will be a big job with a large price tag. However, it will give your home a particular "wow" factor, so you'll want to make sure it's done right.
The good news –
there are plenty of resources and ideas out there
. Before making any final decisions, research and interview several contractors. Not only will a redesigned kitchen add value to any Marvin Creek home for sale, but you will have the added convenience and enjoyment from it for as long as you continue to own the home.
Any kitchen design must be as functional as it is attractive. There's a saying in real estate that kitchens sell homes, so the better those two factors are represented in your design, the quicker it might sell. The kitchen's layout, proper lighting, and ventilation are important factors to plan for. Hence, the kitchen will be bright and airy, and won't get overwhelmed by orders, proper storage space, and attractive flooring.
Look at the housing market
Before diving into a kitchen redesign, it helps to know a bit about the vibrant housing market in Marvin, which is one of the wealthiest towns in North Carolina. The median price of Marvin Creek houses for sale is
$910,000
. That represents an increase of 23% during the past year. It is considered a seller's market, meaning there are more buyers than there are homes available.
If you plan to list your home for sale soon, the goal is to close a deal as quickly as possible and for as big a profit as possible. You stand a better chance if your home is in tip-top shape, including having a modern kitchen that has been recently redesigned.
1. Consider your needs
The first thing is to consider
how to best utilize the space
of Marvin Creek mansion homes to make the kitchen more efficient and enjoyable to use. For instance, the three parts of the kitchen that you use the most in preparing meals are the refrigerator, the range, and the sink. The kitchen should be designed so these three features should be equidistant. If you like the view from your kitchen windows, you can start rearranging from there.
Be sure not to have too much space between features because you don't want to have to carry items several feet from one place to another. On the flip side, make sure you leave enough room for foot traffic to flow.
You'll also need to consider the location of the other main components of the kitchen, including the countertops and an island if that's something you've been wanting. Also, consider whether you will have a table and chairs in the kitchen or if they will be in a separate dining room. It's important to keep the space clutter-free.
2. Plan an island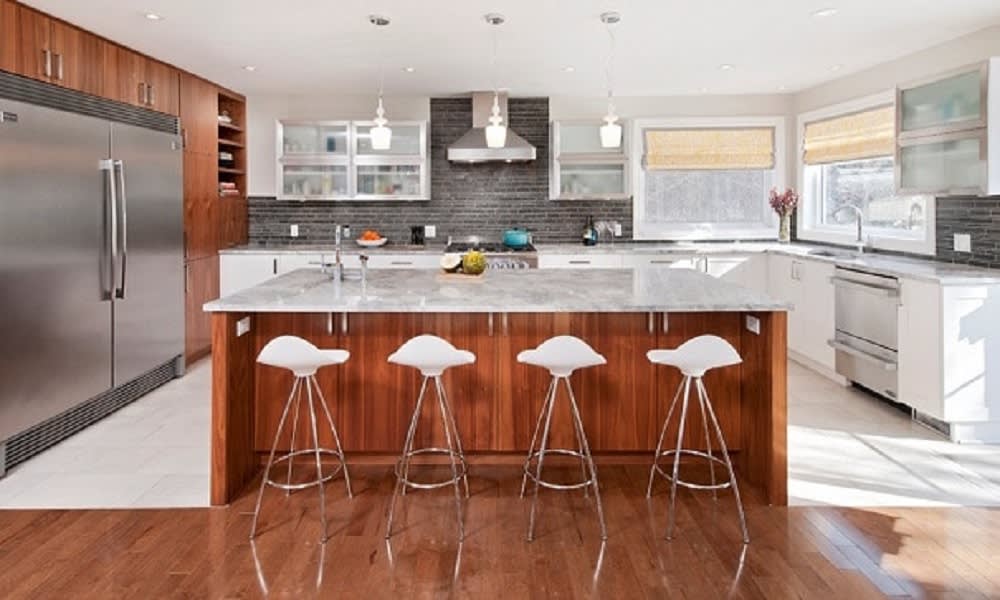 An island can be the grand centerpiece of the kitchen design. Homeowners love having the functionality of an island, and homebuyers love seeing kitchens that include one. If you want an island, make sure you have the space for it. There needs to be enough room so people can easily walk around it. Some people will want an island with room enough for both a cooktop and eating space. Others are OK with keeping it clear for preparing meals and eating. Besides giving the kitchen a focal point, one of the beautiful things about an island is that it can provide storage space. Some people will put the dishwasher on the island.

If it becomes apparent an island won't work in your redesign, consider a U-shaped kitchen counter. One side of that layout will provide room for three or four stools for eating, and you can use the other side of it for cabinets and drawers. Just make sure the opening is big enough, so there aren't traffic jams.

3. Storage
The kitchen redesign in your Marvin Creek real estate should have enough storage for all your needs. Ensure you include the correct number of cabinets, drawers, and shelves to store your dishes, cookware, utensils, glassware, and food sensibly. By having a proper place for everything you'll use, you can keep countertops free of clutter, which will lead to more practical use of your kitchen.

4. Lighting

It's crucial to design a kitchen with the kind of lighting that gives you the proper illumination for cooking and projects the room as a warm gathering place. There are several options for kitchen lighting, including ambient lighting that could include recessed lights in the center of the room. Another trendier option is surface-mounted light fixtures arranged in a grid that gives off more direct lighting. A chandelier-like light mounted over the island is another nice choice.
5. Appliances
Picking out new appliances can be the fun part of kitchen redesigns. One word of advice: Start with your stove, which is generally the appliance you'll use the most. Where you decide to have the stove will help you choose where to place the other devices. Just make sure you have plenty of counter space around your stove to allow for the proper preparation of meals. If you have the budget to replace all your appliances, spring for new eco-friendly smart appliances that you can control via an app or tablet, or even your voice.

6. Flooring
Finally, pick a flooring style and material that is light in color to add to the overall airy feel of the room. Consider a surface such as stone or tile that will be durable under constant foot traffic. You might also want to consider some of the refined hardwood floorings on the market today.

These are our top tips for the perfect Marvin Creek kitchen redesign. If you plan to buy or sell Marvin Creek homes, let the luxury real estate experts at Your Property People provide unrivaled client services for you today!